Salonfrog in Professional Salon & Spa Magazine
Salonfrog's Andrew features in the September issue of Professional Salon & Spa Magazine, in its expert advice page.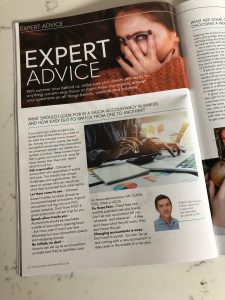 WHAT SHOULD I LOOK FOR IN A SALON ACCOUNTANCY BUSINESS
AND HOW EASY IT TO SWITCH FROM ONE TO ANOTHER?
If you want your salon or spa to do better than all the others, you need to do what the average owner doesn't do. Among my salon clients, the most successful owners see their accountant as a business adviser, not merely as a number cruncher. These owners know that a good accountant will save far more money than they cost.
Here's what to look for:
Ask a specialist – Choose an accountant who specialises in salons and spas. This industry has unique challenges and opportunities. You need an advisor who can teach you what they've learned from other salons.
Let them come to you – Distance doesn't matter, so never choose an accountant based on location. A good accountant will log into your POS system remotely. Don't have POS? A good accountant will set it up for you.
Speak when it suits you – Accountants should be reachable outside of your salon's opening hours – but many aren't! And if you love WhatsApp but your accountant doesn't, start shopping around.
No initials, no deal – Anyone can set up as an accountant, so make sure they're qualified. Look for these abbreviations: AAT, ICAEW, ICAS, CIMA or ACCA.
Fix those fees – Fixed fees and monthly payments are your friend. Don't let your accountant bill you "whatever and whenever" – if they don't know what the job costs, they don't know the job.
Changing accountants is easy – Don't wait to switch. You can be up and running with a new accountant in days, even in the middle of a tax year.